The Best Watering Practice
In the plant pages, you can see our suggested amount and frequency of watering. However, we say it is a suggestion because soil dries out at different speeds under different environments.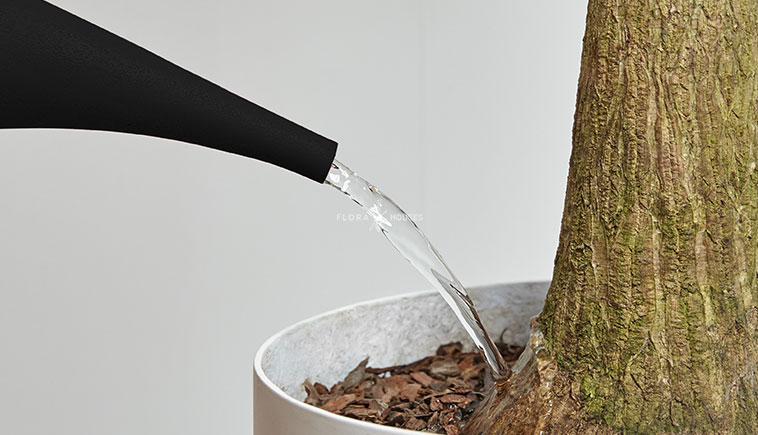 If we strictly follow the suggested watering amount and frequency without noticing the actual condition of the plants, we may not help the plants to grow well. Here is the best practice based on our experience.


Step 1:
Remove the soil cover (e.g. pine bark)

Step 2:
Stick your finger or a chopstick 5-7 cm deep into the soil

Step 3:
If the soil is dry, water evenly on the soil (you can start with 800ml for floor plants and 250ml for table plants.)

Step 4:
If there is no water coming out from the saucer, keep watering. When there is water coming out, remove the excessive water.

Step 5:
Observe the amount of water the plants need and adjust the watering interval


# Always water until there is water coming out to make sure the bottom part of the soil gets water.
# Always remove the excessive water to avoid mosquitos' breeds.
# Always remember over-watering brings more serious problems than under-watering.




More about watering instructions:
High Frequency - Water When the topsoil is dry / Keep the soil moist

Check the soil moisture level every 3 to 4 days

That means the plant like the moist soil or you can water the plant when ~10-20% of the soil is dry.

Examples: Dracaena Sanderiana var. virens, Fagraea Ceilanica

Medium Frequency - Water When topsoil is dry

Check the soil moisture level every 5 to 7 days

That means we can water the plant when ~25% of the soil is dry.

Examples:Tree Philodendron

Medium Frequency - Water When the middle layer of soil is dry

Check the soil moisture level every 7 to 9 days.

That means we can water the plant when ~50% of the soil is dry.

Examples:Swiss Cheese Plant Dracaena Fragrans, Dracaena deremensis 'Compacta

Low Frequency - Water When most of the soil is dry [80% of the soil]

Check the soil moisture level every 10 to 12 days.

That means we can water the plant when ~80% of the soil is dry.

Examples: Sansevieria Trifasciata, Zanzibar Gem, Pachira Macrocarpa